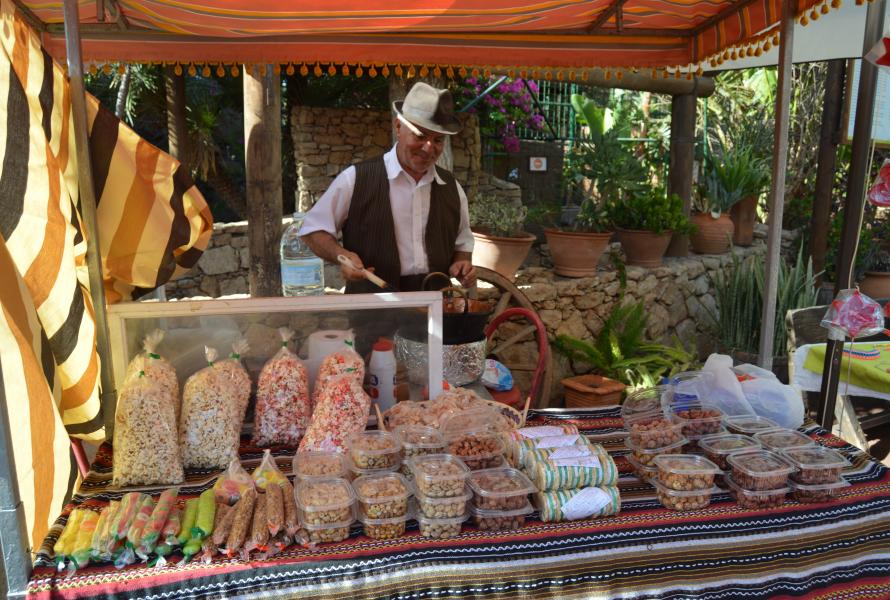 The traditional aromas and flavors are able to bring us back to our childhood. Theyr are capable of making us relive moments we thought forgotten and which made us immensely happy. In the Agro-Craft Market Fuerteventura, we offer all this... and much more!
Strolling among our varied and exquisite stalls, suddenly you will notice a familiar aroma, wrapped in an atmosphere of celebration and Canarian tradition, witch will make you feel small again for a moment.
Antonio, a craftsman of our land expert in working with candy, does with his own hands those delicious sugared almonds. But the way he works in combination with sugar nuts is very special.
Fuerteventura local cultures where are carefully cultivated large and rich almond trees, this artisan chooses the best almonds. The raw material quality is one of his secrets to ensure the best results. He always chooses the largest almond flavor and loaded, ensuring that personally preserved skin. No skin praline will not be as it should!
But any chef worth his salt knows how hard it is to work with caramel. But that's not a problem for this expert! Water, sugar, care and patience are the four key ingredients for a tasty and aromatic caramel. A simmering texture we both love lovers praline is achieved.
If you were hoping to find these delicacies, the Agro-Craft Market is the place you were looking for. Here you can take the newly made especially for you! But best of all is that, thanks to the excellent quality of praline, if preserved in an airtight container will keep them for more than a month without problems. Will you be able to resist the temptation to eat them before? Sure not!
The good thing about Antonio is that not only works with nuts... In their place you'll find the widest variety of classic goodies! Caramelized apples, lollipops and all kinds of goodies for the sweet tooth.
Every Sunday, in our Agro-Craft Market in La Lajita, brings to our visitors the local products of the highest quality. Don't forget to come on Sunday and check for yourself! Well... Why not... also taste it!