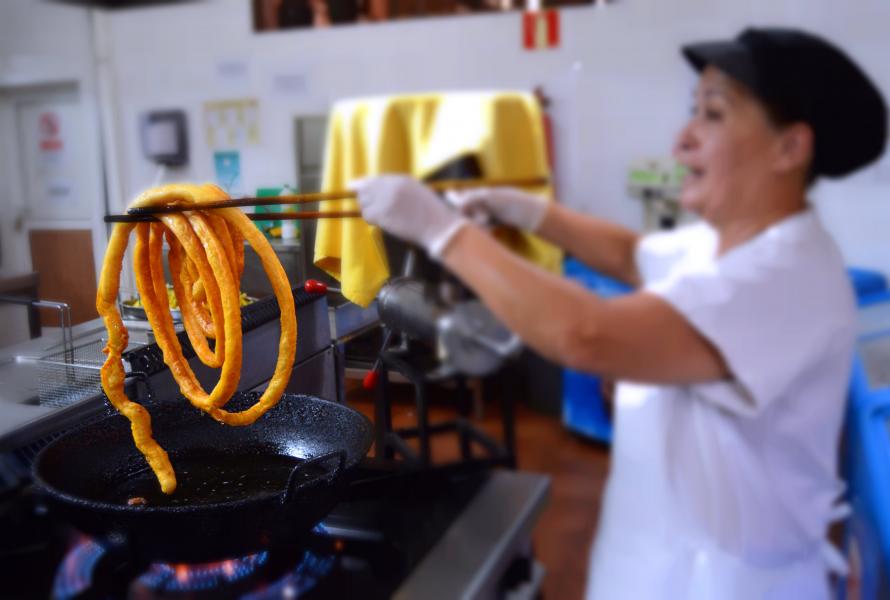 A good coffee with milk or a natural juice acompaneed with a piece of cake or churros with chocolate. A little and a big pleasure to scope which is giving the humor.
In winter specialy in the bars, they let space for the natural things like stones, wood and exotic vegetation, which with the menu of coffees, chocolate, tea and natural juices are the star of the breakfast in midmorning or earlier to star the day.
The sunday in the mercado in Oasis Park Fuerteventura, you cant find just in a good and tasty breakfast, also in a atmosphere which changes in a area and a most recomended meetingpoint of the island. Enter in a middle of a traopical garden to a zone of restauration with a big stone furnace never beeing cold from eight o clock in the morning there is no price.
Good morning my friend! Could you put me a hot chocolate a portion of churros with love please!
Thats like the first word sounds from the guests to the waiters in the perfect traditional dress whast makes the sunday change to a very special day for everybody who visit the market fool of canarian tradition and products from this earth what saw us born.
More than 150 portion of churros for every sunday between 08:00 and 12:00, and natural juices? you cant believe it but you lost the count, what nobody lose is the truth flavor, its fruit from the farm of the Mercado Oasis Park Fuerteventura.
Every sunday is a special day, many cooks are coming to have breakfast and after to go to buy on the market the things for there composition. There are couples they come just to have a breakfast and to start the day with the sweet flavor and have a ice time on the market counting histories.
Little by little the market at 08:00 takes atmosphere but it at 10:00 when the market is in activity in the restaurant. With this traditional mucis group you have to be quite to listen the music in the backround which brings a lot of art and love. 
If you see the waiter dancing with the guests dont start your arlamsystem, here the sunday is a day to be happy and to go with the emotion!
And if you just like to look and to feel like in a other world so just come a walk around. Its not necesary to have breakfast to enjoy something so beautiful like ¨harmony, happiness and to live your life every second with happiness.¨
In this part we like to thank our team from the restaurant for the special love  what they have every sunday with our guests and there happiness they are communitating with the traditional dress.